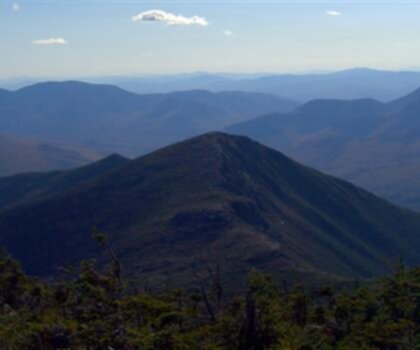 When you talk about Mount Bond, you can not avoid talking about the other two peaks around it: West Bond and Bondcliff. These three mountains in the heart of the protected area Pemigewasset Wilderness are inseparable. Breathtaking panoramas, a beautiful trail and some loneliness ... What more can a hiker ask for?


Mount Bond, West Bond and Bondcliff: A New Hampshire Flagship Destination

If you are looking for a secluded place that offers extraordinary views, you can find your happiness by choosing Mount Bond. Moreover, it is not a single mountain, but the lot of three summits including Mount Bond, West Bond and Bondcliff. This trio of mountains is classified in the category of very difficult trail with its distance of 36 km and sometimes dangerous passages. However, you will not regret climbing these mountains and discover its amazing landscapes.
A technical and difficult trail
To start the hike, head to the large parking lot at the Lincoln Woods Visitor Center located along the Kancamagus Highway. Then continue with a 55m suspension bridge that leads to the Lincoln Woods Trail. At a distance of 4.5 km, this trail is no other than an old railway used to transport wood. It's an easy part that could be done quickly. Then, after a few intersections like Franconia Brook Trail and Wilderness Trail, you have arrived at the Bondcliff Trail which is the path to take to the summit. This course has a steady climb all along the Black Brook with its three crossings of the creek. The last part of the trail is embellished with rocks with a higher altitude. After climbing a small cliff, dangerous in bad weather, the summit of Bondcliff is 14 km away. It's a summit like no other! Being bare, it offers a splendid landscape in all directions. It is a pretty rocky plate of 1300 meters of altitude which deserves to be explored.


To get to Mount Bond, you have to continue the same path. Throughout Bondcliff Trail, you have the chance to walk along a pretty rocky ridge called "The Bond's Knife Edge". After 1.9 km of distance and a few difficult sections, you arrive at the top of Mount Bond (1432 meters) and its spectacular view. The route does not stop there! Follow the same path to reach the West Bond summit. After 800 m you will find an intersection with the West Bond Spur Trail. Take the left path 800 m to the highest point of West Bond. At the top, admire a surprising 360-degree landscape. To make this round trip, you need about 12 hours.
Other complementary information
The Mount Bond Trail is open year-round with paid parking. It allows dogs on a leash.
---
Services
No information available
Details
Coordinates
44.1528435 -71.5311904
Contact Information
No information available
---
Rating and comments
---
---
Starting Point
Alternative
---